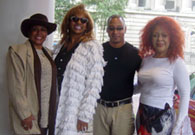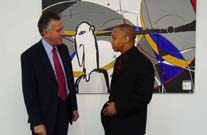 A few years later Albert Jackson was commissioned by Barclay's Bank to create nine unique sculptures, which were later sold at a gala charity auction. Celebrities such as Sara Cox, Zoe Ball, Kate Moss and others kindly contributed 'personal items' which were incorporated into the work to accent each piece.
Albert Jackson's art cuts across boundaries to appeal to the universal human spirit – yet each viewer can delight in finding their own personal truth and emotional meaning in his works. His paintings explore the form and function of abstractions that exalt the essence and passion, as well as punctuating the vivid manifestations of colour, which define and drive the emotional integrity of his images on canvas.

"My work speaks to both literal and abstract points of view," Jackson said. "I try to create an atmosphere which transcends the ordinary and finds meaning through inspiration."

Furthermore, his works were exhibited in the BBC2 Documentary series Chelsea Tales.
British Minister for Europe and Albert
Albert Jackson with partons, The Supreme's
Select image to view artwork